Voor Nederlands klik hier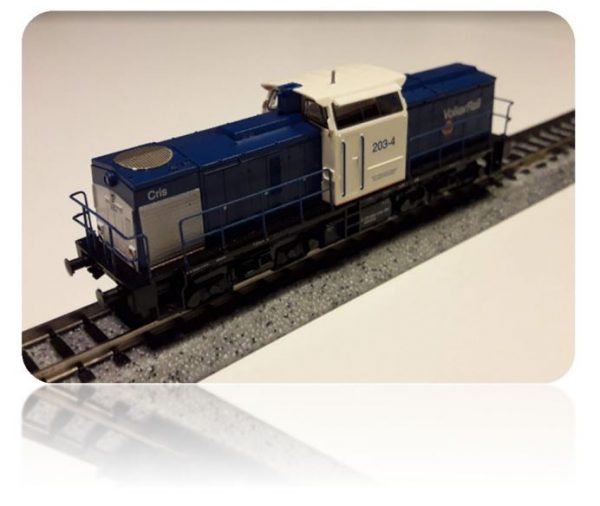 BR203 ex DR V100 sounddecoder inbouw D&H SD18 .PDF
Locsound for Fleischmann BR203 (ex DR V100)
D&H SD18 decoder
Author: Paul Peters
This is a short manual how you can modify your Fleischmann BR203 in to a sound locomotive. The difficulty level is expert.
Before installation, it is necessary to mill, solder and completely disassemble all parts prior to milling.
What is required?
How to build in?
At the location of the NEM651 plug, you can solder the adapter with the cable as a spacer. You have to solder this slightly curved so that the decoder can be clicked in between. Then fold it back so that the decoder lies just below the PCB and does not protrude too far beyond the PCB edge.
After bending, test whether all the wires still make contact between the PCB and the adapter.

Wrap it with some double-sided tape to cover the decoder connections so that it does not short-circuit with the baseframe.

To make some more space for this long decoder and adapter, you have to mill part of the frame. Don't mill away lower than the gears.

Now the PCB can be put back in place. On the PCB you can place the speaker with double-sided tape so that it stays in place inside the cabin.
For questions, please contact us!